By Amro Ali: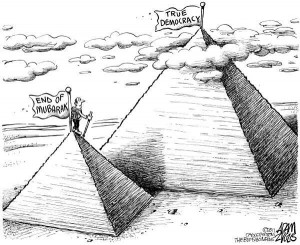 It was Lenin who once said, "There are decades where nothing happens; and there are weeks where decades happen". After decades of stagnation under Mubarak, there could not have been a more fitting description for the events in Egypt of early 2011.
In 18 days, the Middle East experienced a geo-political earthquake. President Hosni Mubarak was successfully overthrown after 30 years in power. Yet what made the events spell-binding was the relative non-violent nature of the protestors, the all-inclusiveness, Muslim-Christian unity, and the communal spirit – an inspiration to the world. After the Pyramids, Tahrir Square became one of the most famous Cairo landmarks and was elevated to the hall of famous squares alongside Tiananmen Square.
After the January overthrow of Tunisia's leader Zine El Abidine Ben Ali, Middle East experts were appearing and proclaiming that the Mubarak regime would not follow the Tunisian path. Yet what so-called experts and intelligence services could not measure or foresee was the indomitable spirit of a downtrodden people. Once unleashed, people power kept gathering momentum at a formidable pace.
So, where to from here? Can Egypt handle its own version of democracy and put to rest the fears that have done the rounds on the news circuit? While the road ahead will be difficult, it is an absolute essential that a transition to democracy takes place and is supported by the international community. Continue reading "Why a Democratic Egypt Should Trump all Fears"
(627 views)