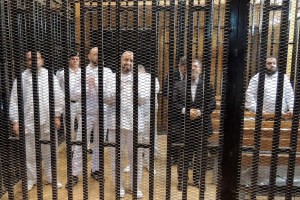 Published in ABC's The Drum
It is an irony that former Egyptian president Mohamed Morsi's trial – which highlighted the deep divisions in Egyptian society – was held on the country's Valentine's Day.
The only thing Morsi and his 14 co-defendants from the Muslim Brotherhood had in common with the military-backed interim government was the desire by both sides to use the trial as a theatre to address the Egyptian public by pushing their own agendas and accusations.
Morsi and the Brotherhood wasted no time in seeking to embolden their domestic base and tell the rest of the nation that the Brotherhood was not going away.
To undercut Morsi's predictable grandstanding, state TV muted the sound. "I am here by force and against my will. The coup is a crime and treason" shouted Morsi, who set the tone for the non-cooperative atmosphere.
For the prosecutors, the goal was to send a signal to the wider Egyptian public about who is in control and to parade Morsi and his colleagues before the court as a form of political emasculation.
The charges against Morsi are in fact legitimate – they were filed on 5 December 2012 by human rights activists after the Brotherhood stormed a sit-in outside the presidential palace.
The actions of the Brotherhood sparked clashes that resulted in the deaths of ten protestors.
Even the case on its own skews the course of justice when there is a lack of enquiry into the security debacle and the Brotherhood chain of command on that day.
But legitimate charges do not necessarily lead to a legitimate trial.
Nor has the state all of a sudden developed a desire to see justice take its place for Egypt's innumerable victims.
As the veteran blogger The Big Pharaoh tweeted "Irony = Morsi's Muslim Brotherhood cadets tortured people at the presidential palace gates. Police regularly torture people yet they're securing Morsi's Trial today!".