Presentation: Defriending the Status-Quo:  Translating Social Media onto Egypt's Streets (Transcript)
Venue: Department of Cultural Studies and Oriental Languages, University of Oslo 
Date: 19 September 2011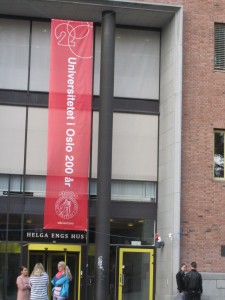 I would like to thank Professor Albert for the invitation, and the Department of Cultural Studies and Oriental Languages, and the University of Oslo. From the outset, I would like to pay my condolences to the victims and loved ones of the horrific tragedy that struck Norway a few months ago. I was in Australia when it happened, and like many I was in shock horror at the carnage. However, my breath was taken away by the Norwegian spirit that came together in unity. You really did show the world the spirit of humanity, and why Norway always deserves its reputation as a promoter of peace. There was one scene on the news, seeing a Norwegian mother cry for the loss of her son, I was reminded by a weeping mother in Egypt, who was holding a framed portrait of her son who died during the revolution, walking aimlessly on the streets of Alexandria, asking anyone for justice for her son. The pain of our losses is immeasurable, yet the unity of our humanity is incomparable.
As you know social media has been a very hot topic this year, it has lended itself to explain the successes of the Arab Spring, to its dark side in the recent London riots.
The first Norwegian I ever met in my life was a visiting professor in Australia. He told me something very profound, he said if you want to know the mood of a country, listen to their jokes. Egypt has no shortage of jokes, yet the most common joke that circulated around Egypt this year was this one: Mubarak goes into the afterlife, and meets with former Egyptian presidents Nasser and Sadat. They asked him: "How did the Egyptians kill you?" By poison, like Nasser?, By gun, like Sadat?'. Mubarak said, 'no, they killed me by Facebook."
Continue reading "Defriending the Status-Quo: Translating Social Media onto Egypt's Streets"
(2589 views)