Article originally appeared in openDemocracy:
http://www.opendemocracy.net/amro-ali/revolution-never-sleeps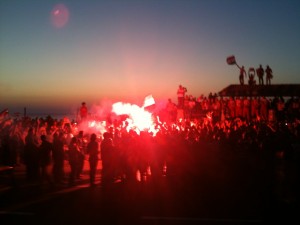 Egyptians may have been left with the dilemma of an Ahmed Shafiq-Mohamed Morsy reverse suicide pact (for the voter), yet the revolutionary forces' tactical loss has been compensated by a strategic gain – their anointed candidate Hamdeen Sabahi vanquished his opponents in Alexandria in what could be a long-term game changer.
During the two day elections, I volunteered for Shayfenkom ('We can see you'), an independent body that monitors voting irregularities. I overheard Sabahi's name at every polling station I attended, including Muharam Bey, a traditionally Muslim Brotherhood base. If Sabahi could penetrate this heart of old Alexandria, then the city was sold to him before the results were out.
Continue reading "Revolution never sleeps"
(700 views)