Article published in Egypt Independent . To view the print edition (and longer piece) of the article, click here Alexandria's Real Estate Mafia (PDF)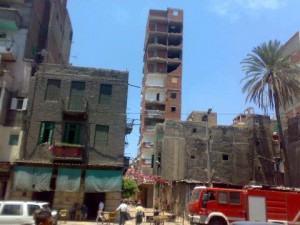 That just three people — a mother and her daughters — died when a building collapsed in Alexandria on Monday places the incident amongst the least deadly of the increasingly common collapses in the city.
One collapse in the Gomrok district took 22 lives down with it to the dust less than a fortnight ago. Yet, for all the tragedy, the collapse and the response followed a familiar pattern. The building owner illegally adds extra floors and the building falls, leading to deaths and injuries. Outrage follows and an arrest is made as the authorities promise to crack down on illegal developments, but the cycle is repeated elsewhere.
According to residents of Gomrok, in this case the owner ignored previous safety warnings, shunned civil engineers and architects, and bribed his way into adding additional floors.
Continue reading "The real estate pirates behind Alexandria's collapsing tenements"
(2113 views)