Published for Mada Masr
Republished in Jadaliyya 
The distant shouts of a female voice rang louder and louder in my ear: "A complete revolution or nothing at all!" I turned around and caught my first glimpse of a young woman of average height, who was outsized by her vocal powers. I was taken aback, impressed, and snapped an image there and then of Mahienour el-Massry — or Mahie, as she is known amongst her circles.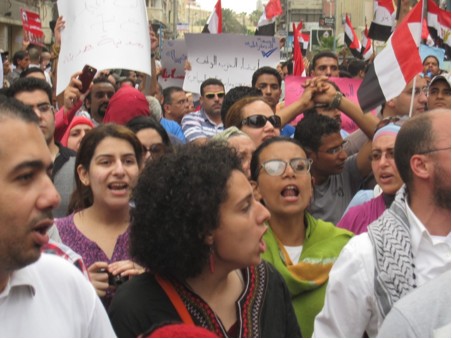 That day was Friday 27 May 2011, in a protest march through Alexandria's Port Said Street on the Second Friday of Rage. The January 25 Revolution had opened up a world of endless possibilities, and people took to the streets to demand them. Many protests, vigils and revolutionary exhibitions later, I would gradually become more acquainted with a remarkable human being that I have come to consider a friend, inspiration and the conscience of Alexandria.
In a city where you can count the key activists on your fingers, Mahienour (an activist and a lawyer) had immense influence on revolutionary Alexandria. As human rights lawyer Marianne Sedhom remarks, "Mahienour's loud voice in a small city allowed her to have a greater impact, shape the debate, and inspire many."
Mahienour, along with seven other activists, is currently serving a two-year sentence for defying the Protest Law, which they were protesting on the day of the retrial of the Khaled Saeed case. Saeed, as you may well know, was killed by the police on June 6, 2010. Public anger against his death by torture initiated the rapid countdown to the 2011 uprising.
Ironically, it was this month four years ago, during the first Khaled Saeed protest, when Mahienour pulled off one of the most daring feats of bravery seen yet. Central security forces at the Cleopatra Hamamat tram station (the site of the protest) were gradually fencing in Mahienour, along with twenty protestors. She was increasingly worried about the safety of protestors arriving from the Corniche and Port Said Street, who were bound to get trapped and arrested.
In a "Run Lola Run" moment, Mahienour took the initiative and ran shouting a slogan in reference to Saeed's death, and protestors who had arrived late, were lost, or trapped by the security forces, just joined her, running after her through the street, as she called on residents and workers in the area to join in. Many did. As friend Kholoud Said Amer recalls, "We just ran behind her and chanted what she was chanting, and in two minutes, after we were 20, we ended up being a force of 300. The biggest protest until then."
The security forces were knocked off guard and, rather than arrests, all they could do was prevent the protesters from entering Medhat Seif al-Yazal Khalifa Street — where Saeed had died earlier that month. Mahienour, who was brutalized two years earlier (July 2008) at a police station (as a result of her support for the April 6 Youth Movement's activities) was clearly on track, and back with a vengeance. She would play a key role in the succession of protest events leading up to the January 25, 2011 Revolution, and beyond.
Continue reading "Run, Mahienour, Run (Why Mahienour El-Massry matters)"
(961 views)