Presentation Inspired, Transfixed and Transformed: Painting the Egyptian Revolution 
Host: Egyptian American Professionals Society
Date: 24 September 2011
Time: 7.30pm
Venue: Marriott Woodbridge Renaissance Hotel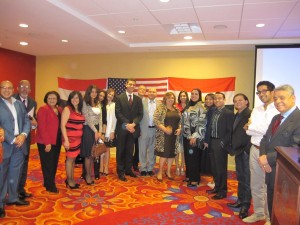 It is a great honour to be here, and I would like to thank Professor Morad, and the Egyptian American Professionals Society for the invitation to be present in New Jersey. Growing up in Australia, I first heard of New Jersey because of Bon Jovi. He had it on the back of his jacket so I thought New Jersey was a brand name of a jacket. The world has not forgiven you for Jersey Shore. But you made up for it with Jon Stewart.
As you well know Australia is very far away. To show you how far away it is, I grew up in a city in Western Australia called Perth. We have a central park there, and when I asked my high school teacher why that is so, he said that if you dig a hole through central park in Perth, straight through the Earth's core, you will come out in Central Park, New York. But I found the process too difficult so I took a plane.
Before anyone asks why my accent is not completely Aussie, it's just an unfortunate case where vocal cords never assimilated with the rest of my body.
Continue reading "Inspired, Transfixed and Transformed: Painting the Egyptian Revolution"
(10029 views)