Article published in:
openDemocracy
http://www.opendemocracy.net/amro-ali/egypt%E2%80%99s-morning-after-against-dictatorship-20
The Egypt Monocle 
http://egyptmonocle.com/EMonocle/%E2%80%8Bop-ed-against-dictatorship-2-0-2/ 
Subtlety is not a strong feature of the Egyptian landscape, whether you look at its overt religious piety, emphasis on a person's title, the fragrance generously sprayed that heralds a person's arrival from 15 metres away, the imposing pyramids, or Judge Farouk Sultan's protracted defence of the 'divinely-sanctioned' electoral commission before he could get around to just announcing the presidential winner. Yet the least subtle of any Egyptian agency has to be the league of 'extraordinary' gentlemen – the Supreme Council of the Armed Forces (SCAF). In seizing all branches of government, ripping up the constitution and pre-emptively defanging the Morsi presidency, SCAF have not only sought to turn the self-styled 'Revolution 2.0' into a 'Dictatorship 2.0', but have done so with a degree of recklessness, desperation and lack of imagination that leaves their hand even more exposed than before.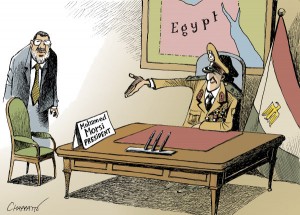 Decoding the socio-political hieroglyphics reads like this: New politics (revolutionaries and liberals) reluctantly united with religious politics (Muslim Brotherhood) to fight the union between old politics (Felul, former regime remnants led by Ahmed Shafik) and military politics (SCAF). Old politics (and the revival of corrupt patronage networks) has been dealt a death-blow. Now a considerable number of revolutionaries find themselves stuck in a marriage of convenience with the Muslim Brotherhood to take on the military council and their supplementary constitutional declaration, the timing of the next parliamentary elections in particular and a painfully-slow transition in general.
Continue reading "Egypt's morning after: against Dictatorship 2.0"
(1017 views)