Article published in openDemocracy
I recently penned an investigative article entitled, 'The real estate pirates behind Alexandria's collapsing tenements' that examined the spate of building collapses in the coastal city, particularly in the light of last month's calamity in the heart of old Alexandria that resulted in 22 lives lost. Behind such events, as I noted, are a "loose network of land-lords, kahools [fall-guys], unscrupulous contractors, corrupt district engineers, crooked or apathetic police officers, and hired thugs making up what can only be described as Alexandria's real estate mafia."
The mafia have not only declared a war on safety standards, but on Alexandria's cultural heritage sites as well. Post-revolutionary Egypt was visited by the semi-break down of law and order, and an Egyptian public that became distracted with the country's tumultuous political transition. The real estate mafia went into overdrive mode, not only building unsound structures, but destroying in the process cultural heritage sites dating from the pre-1952 monarchical era in order to build more of their dodgy high-rise apartments.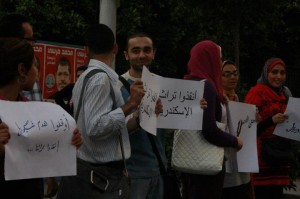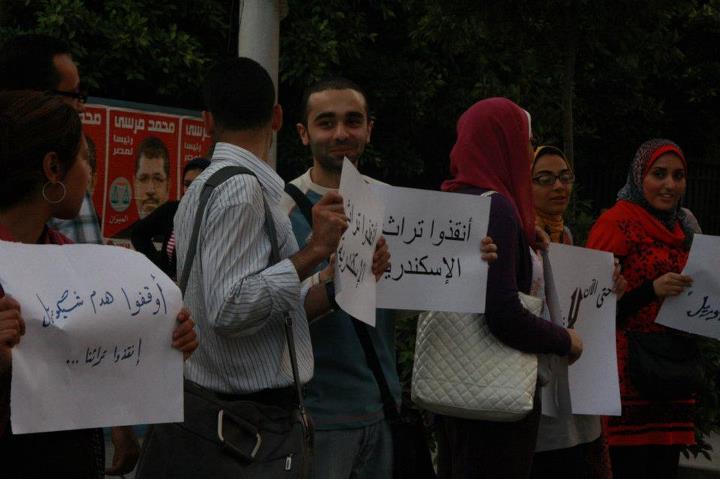 With an impotent heritage law and a governor who was daily signing off 150-180 orders to halt illegal demolitions to little avail, the only effective response was the collective effort of a new group "Save Alex" that gathered students from the colleges of fine arts, engineering, tourism and hotels, and others, as well as Alexandrians from all walks of life including academics, activists, civil servants and even nostalgic elders.
The group's goals sought an end to the destruction of the city's heritage sites and building code violations.
The mafia were not used to opposition, unless it came from law enforcement agencies. There arose a cat and mouse game, where a threat to one heritage site would bring out Save Alex.
The tools of the revolution were brought out again in full force – Facebook, Twitter, campaigns, vigils, brochure handouts. The public was a getting a taste of something novel – protests that have nothing to do with bread or bringing down a regime (or bringing down anything), but instead about preserving remnants of the past.  Continue reading "The Alexandria mafia's new adversary: civil society"
(1188 views)