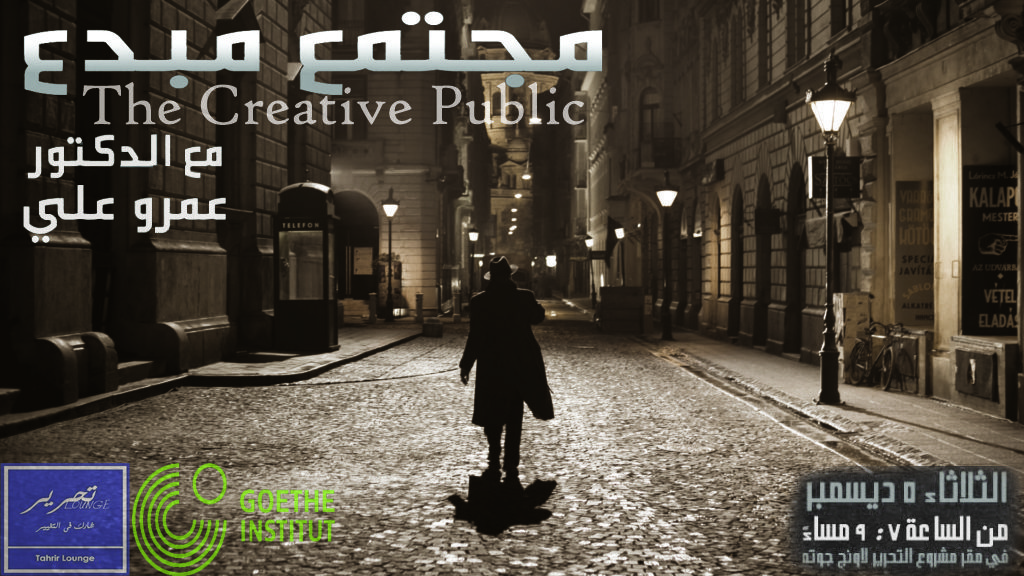 I will be presenting the final 'Theatre of Thought' lecture for the year on the Creative Public at 7pm, Tuesday 5 December 2017, at Goethe's Tahrir Lounge, Cairo.
"Do publics simply exist or are they always created? This seminar takes on the latter in exploring how publics are summoned into being, that perhaps there is a way to explore the idea of new publics made through intellectuals, musicians, artists, books, proclamations, and events. Yet this session attempts to raise a further question, can we write for, or speak to, the public that does not yet exist? This session draws from Czech philosopher Václav Havel's 'Parallel Polis' and French philosopher Gilles Deleuze's notion of 'gaps of silence,' relevance and truth, to understand the role of independent thinking and its relationship to the idea of the public."
هل هناك مجتمعات مبدعة ؟ هل يمكن تكوينها؟ علي من يقع تشكيلها؟"
اسألة تدور في اذهاننا ؟
يقدم مسرح الفكر بالتحرير لاونج جوتة هذا العام تجربة جديدة و تطرح الفكر والمفكرين بأسلوب شيق وجذاب .
ندعوكم للمشاركة في اخر ندوات هذا العام حول موضوع ( المجتمع المبدع ) هل هو موجود و أين وإذا لم يكن موجود ! ماذا نفعل ! هل لنا ادوار !
فكرة "مجتمع مبدع"، في السابعة مساء الثلاثاء 5 ديسمبر المُقبل، وتطرح تساؤلات: هل المجتمعات موجودة بالفطرة، أم أنها تولد من جديد دائمًا، لاستكشاف الكيفية التي يمكن أن يتم بها صناعة المجتمع المبدع والخلّاق من خلال المثقفين والموسيقيين والفنانين، بالإضافة إلى الكتب والأحداث.
إلا أن هذه الندوة تحاول إثارة المزيد من التساؤلات: هل يمكننا أن نكتب أو نتكلم مع هذا المجتمع الذي لا يوجد حتى الآن؟ هل يمكن للأفراد جلب هذا المجتمع إلى حيز الوجود؟
السيرة الذاتية للمحاضر الدكتور عمرو علي ، عو عالم الإجتماع في الجامعة الأمريكية بالقاهرة، محاضر في العديد من الجامعات والمعاهد في القاهرة والإسكندرية، تتناول أبحاثه دراسة المجتمعات، والحالة الإنسانية في ظل الإعتداء من قوى الاستهلاك العالمي والثقافة المادية، وآثر ذلك على الهوية، ومعنى المدينة والحداثة والمواطنة، حصل على الدكتوراه من جامعة سيدني وكانت الرسالة البحثية الخاصة به عن دور الخيال التاريخي في تشكيل الإسكندرية الحديثة ومواطنيها.
"في انتظاركم و بناء علي رغبتكم سيتم مد الندوة حتي ٩:٣٠ مساءً لنتمكن من ربط الثلاث ندوات كما وعدناكم
https://www.facebook.com/events/1519494751451895/
Materials
Charlie Chaplin's The Circus (1928), lion scene. We will examine the role of silence, imagination, and the shifting of responsibility of voice and perception from actor to viewer.
—
في بعض الأحيان نعتقد أن هناك بعض الأشخاص لا يعرفون كيفية التعبيرعن أنفسهم، ولكن في الحقيقة أنهم يعبرون عن أنفسهم. أسوأ العلاقات هي التي تكون بها المرأة مشغولة البال أو متعبة ولا يقول لها الرجل "ماذا بك؟" أو "قولي شيئًا ما.."، أو عندما يحدث العكس، فإن الإذاعة والتلفزيون أدت إلى انتشار هذه الروح في كل مكان، وذلك بسبب التشويش ونشر كلام ليس له معنى، بالإضافة إلى الكم الهائل من الكلمات والصور. الأغبياء ليسوا عُميان أو صامتين أبدًا، لذا ليس هناك مشكلة في إتاحة الفرصة للأشخاص للتعبيرعن أنفسهم، ولكن مع إعطائهم القليل من مساحات العزلة والصمت، والذي قد يتيح لهم في النهاية فرصة للحديث. القوة القمعية لا يمكن أن توقف الأشخاص من التعبير عن أنفسهم؛ ولكنها تحفزهم على التعبير عن أنفسهم، نحن نشعر بالراحة عندما لا نجد شيئاً نقوله، والحق في ألا نقول شيئاً، لأن في هذه الأوقات تكون هناك فرص ومساحات لأن يكون هناك شيئاً نادراً والأكثر ندرة، الشيء الذي يستحق أن يقال. ما نعاني منه هذه الأيام ليس هناك ما يمنع عمليات التواصل، ولكن وجود عبارات ليس لها معنى. ما نعنيه هو الهدف من تلك عبارات. هذا هو التعريف الوحيد للمعنى، وينطبق هذا الشىء على العبارات الجديدة. يمكنك الاستماع إلى الأخرين لساعات، ولكن ما هي الجدوى الحقيقية من ذلك؟؟ هذا ما يجعل الجدال يشكل جهداً وضغطاً كبيرا. لماذا لا توجد أي نقطة جدال؟؟ لا يمكنك فقط أن تخبر أحداً أن ما يقوله ليس له معنى فتخبره أنه على خطأ، ولكن ما يقوله ليس بالضرورة أن يكون خطأً، المشكلة لا تكمن في أن بعض الأشياء خاطئة، ولكنها قد تكون سطحية أو غير مترابطة، وهذا ما تم الإشارة إليه آلاف المرات. إن مفاهيم الموائمة والأهمية والهدف من الأشياء تعد أكثر أهمية من مفهوم الحقيقة. فهي ليست بديلاً للحقيقة ولكنها تعد مقياسًا لحقيقة ما أقوله، وهذا ما يحدث في علم الرياضيات، بوانكاريه عالم الرياضيات كان دائماً يقول أن العديد من النظريات ليست مترابطة تماماً وليس لها أهمية (بلا جدوى)، هو لا يقول أنها خاطئة – وهذا ليس سيئًا للغاية.
جيل دولوز، المفاوضات، 1972-1990
Translated from: https://www.goodreads.com/quotes/864042-the-couple-overfloweth-we-sometimes-go-on-as-though-people
—
الانحياز التأكيدي، يُدعى أيضًا ا لانحيازالذاتي، هو الميل للبحث عن، وتفسير، وتذكُّر المعلومات بطريقة تتوافق مع معتقدات وافتراضات الفرد، بينما لا يولي انتباهًا مماثلًا للمعلومات المناقضة لها .هو نوع من الانحياز المعرفي والخطأ في الاستقراء. يُظهر الأشخاص هذا الانحياز عندما يجمعون أو يتذكّرون المعلومات بشكل انتقائي، أو عندما يفسّرونها بطريقة متحيّزة. يكون تأثير ذلك أقوى في المسائل المحكومة عاطفيًا والمعتقدات الراسخة بشدّة. يميل الأشخاص أيضًا إلى تفسير الأدلة الغامضة بشكل يدعم موقفهم الراهِن. استُشهد بالانحياز في البحث، والتفسير، والذاكرة لتأويل تضارُب الموقف (عندما يُصبح الخلاف أكثر حِدَّة برغم توافُر الأدلة نفسها لدى الأطراف المتنازعة)، ورسوخ الاعتقاد (عندما يستمر الاعتقاد بعد توضيح أن الدليل الذي يدعمه خاطئ)، تأثير الأسبقيّة غير المنطقيّة (الاعتماد بشكل أكبر على أوّل ما وُجد من سلسلة معلومات) والربط الوهمي (عندما يوجد اعتقاد خاطئ بارتباط حدثين أو موقفين).
الانحيازالذاتي
(64 views)