This will not be of much consolation to the people and victims in Brussels, but it's important to put the timeline of terrorism in Western Europe in perspective. As the chart by Satista shows, this, by far, is not the worst decade of terrorism in Western Europe. The 1970s and 1980s saw, primarily but not limited to, terrorist groups like ETA, the Irish Republican Army (IRA), West German Red Army Faction (RAF), the Italian Red Brigades, the French Action Directe (AD), and the Belgian Communist Combatant Cells, cause high amounts of deaths and carnage in European cities. Yet Europe managed to successfully subdue them to a great degree. There is no reason it will not succeed in overcoming the Islamist terrorist scourge.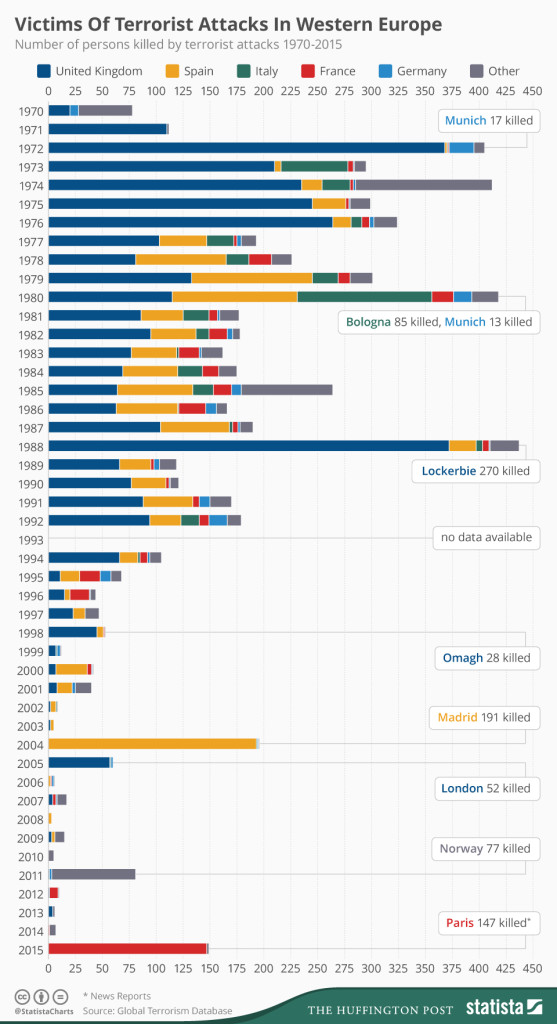 The illustration should serve as a reminder that terrorism committed by citizens against fellow citizens is not something novel to European history. Also, the difference between today and past decades of one's exposure to reports of terrorism is that social media makes us live vicariously through the violence unleashed and tears shed due to round-the-clock reporting, Facebook posts and tweets. Consequently, feeding into an exacerbation of our fears and stretching our human attentive capacity to its extreme limits. This is an astronomical leap from the old days of watching the six o'clock news to see a five-minute report and reading an article in the following day's newspaper.
To emphasise, the diagram should not make one relax or underestimate the gravity of today's terrorist acts – a grave threat that needs to be dealt with in all seriousness. Yet there is no reason not to take a leaf from history to inspire hope that at the end of it all, with concerted political will and collective human efforts, ISIS and its mutations will wither away and become another failed experiment. History is not on their side.
(1545 views)